On March 4, Jon Jones will take on Ciryl Gane in a heavyweight bout at UFC 285. The fight comes almost 12 years after Jones became the youngest champion in UFC history at age 23, defeating Shogun Rua with a TKO. At the time, all signs pointed towards Jones leading a fruitful career. He had a fighter's IQ never seen before from someone his age. Now, over a decade later, Jones goes into his first heavyweight fight trying to redeem an underwhelming legacy. So what happened?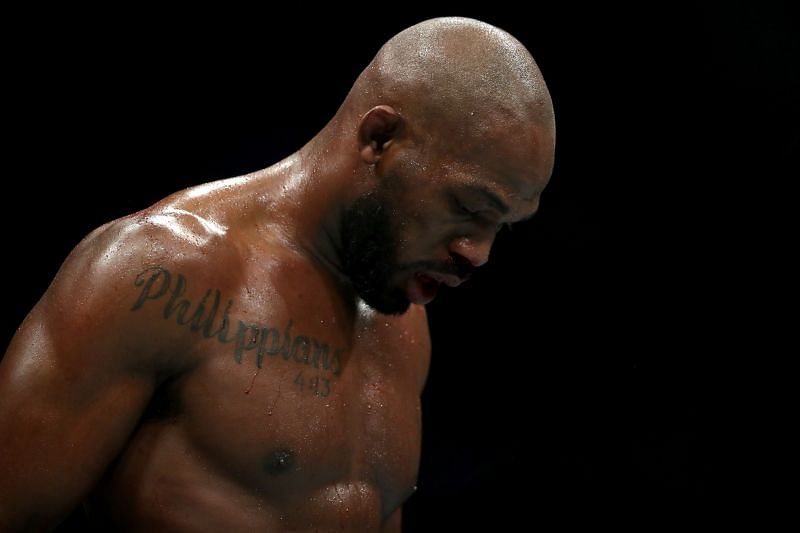 Ceaseless Controversy
Over a year after he took the light heavyweight belt from Rua, Jones was charged with a DUI and pleads guilty. Two years after that, amid several title defenses, Jones was accused of sending homophobic slurs to a fan on Instagram, which Jones denied responsibility for. Then, while promoting their upcoming title fight, Jones and Daniel Cormier got into a brawl in a Vegas hotel. As a result, the Nevada State Athletic Commission fined Jones $50,000 and forced him to clock 40 hours of community service. Nonetheless, he dominated Cormier en route to another title defense.
Months later, a report revealed that Jones tested positive for cocaine before the fight with Cormier, but the fight was allowed to take place because cocaine was not banned by the commission. Jones' public image was hurt, though.
Then, just months after that, Jones was involved in a hit-and-run that injured a pregnant woman. He pled guilty, but not before the UFC stripped him of his title and suspended him indefinitely. After being reinstated, Jones was arrested for violating his probation that was the result of his guilty plea.
When Jones finally returned to competition in 2017 after more controversy, he once again met Daniel Cormier in a light heavyweight championship bout. In the third round, Jones knocked out Cormier with a head kick and took back the title. The celebration was short-lived, though, as USADA soon notified Jones that he tested positive for an anabolic steroid from a pre-fight test. His win over Cormier was overturned to a no-contest, and Cormier was reinstated as champion.
Jones returned in December 2018 and fought Alexander Gustafsson for the light heavyweight title. He won by TKO in the third round, but, one month later, drug test results from before the fight revealed trace amounts of the same anabolic steroid from one year before. However, Jones was not punished. The next year, Jon Jones came to an agreement that, in order to keep fighting, he had to consent to additional drug tests. He passed each test and was allowed to continue fighting.
The Looming Bout
There are numerous other controversies, but I think you get the point. Jon Jones is a figure of great contrast. On one hand, he is considered by many to be the greatest MMA fighter of all time, with a skillset and IQ unlike anyone else. On the other, he is a troubled man who always seems to find another issue to derail his career. Now, he will finally make his return to the octagon, this time as a heavyweight.
So, what's on the line for Jon Jones against Gane? We haven't seen him fight in over 3 years. Since then, he's gained roughly 30 pounds. He's been out of the game for a long time, and who knows how he'll look with all that extra weight? With all those questions, I think this may be Jones' last shot at redeeming his career. If he wins, he paves the way to be a real contender in the heavyweight division. If he loses, he may be forgotten once again.
---
Join our Discord
to leave a question or comment regarding this article. We have sports fans talking betting all day — every day! JOIN THE DISCORD NOW AND QUALIFY FOR PRIZES & BETTING SWAG!
---